You are looking for a sturdy and reliable RV or backup generators? Then don't hesitate to check out the best Briggs & Stratton generators that you can buy now. The company is one of the best-known manufacturers and has enjoyed excellent reputation in the industry for many decades. You can expect to get exactly what you need for your home and/or camping trips from them. Still, it is up to you to make a choice based on your individual needs and requirements.
When considering the best Briggs & Stratton generators presented below, you should have a clear idea of how much power you will need to use all the appliances that you need. This is the most important requirement of all. Of course, you should pay close attention to the included features and accessories and determine how helpful they will be to you.
Best Briggs & Stratton Generator Models
The runtime is another important factor which you need to weigh carefully as it will give you an idea of how often you will have to refuel your unit. In general, you can expect dependable performance from the portable generators of the brand over the long term when you provide proper maintenance on a regular basis. Let's take a closer look at the best models now.
Buy from Amazon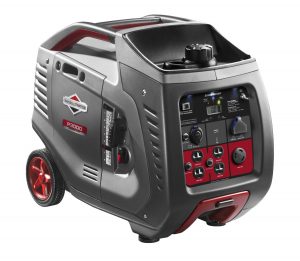 This inverter generator delivers clean power with very low total harmonic distortion (below 3%), meaning you can use it to charge your smartphone and your laptop and even run your video game console without worrying that they may get fried. It produces 3000 watts of surge power and 2600 watts of running power.
This is more than the average inverter generator can deliver. In fact, the running watts are sufficient for powering the air conditioner of an RV. Furthermore, the compact size of the unit and the integrated 6-inch wheels and telescoping handle make it easy to transport and to setup outside.
The Briggs & Stratton 30545 P3000 PowerSmart inverter generator can be used to provide backup power in the home too. You can use it to power the fridge, some lights and a slow cooker or several small appliances plus the radio, for example. Before you make up your mind about this model, evaluate its features carefully:
OHV engine with computer-based technology – The engine performs reliably and this is key while the technology regulates power production to keep energy consumption under check.
5-gallon fuel tank – This is quite big for a small model like this one of the best Briggs & Stratton generators.
10-hour runtime at 1/4 load on a full tank – This is quite impressive for an inverter generator.
4 120-volt AV outlets, 1 120-volt 30-amp outlet, 1 12-volt DC outlet and 1 USB outlet – You can plug in 4 household appliances and charge batteries and even smart devices directly.
Noise level of 59 decibels during operation – The unit is fairly quiet, but not as much as some of its counterparts in the inverter generator category.
LCD StatStation display – It shows how Briggs & Stratton 30545 P3000 PowerSmart is performing and even gives you maintenance reminders.
Pros
Clean power for charging even sensitive devices
Highly portable
Dependable performance
Multiple useful outlets
Highly useful display
Cons
No electric start
Could be a bit quieter
The telescoping handle could be sturdier
Buy from Amazon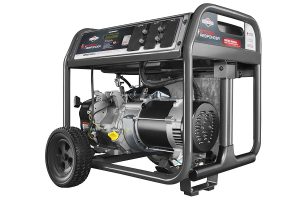 This is a big portable generator designed to provide backup power in case of an emergency. It produces 8500 watts of surge power and 6250 watts of running power. These numbers clearly show that you can power all of the most important appliances in your home during a power outage including the lights, furnace, fridge, microwave and coffee maker.
Given its capacity to help you sustain your lifestyle, it is not surprising that this one of the best Briggs & Stratton generators has been endorsed by the American Red Cross.
You can expect reliable performance from this unit for as long as necessary. You just need to have a sufficient amount of fuel at hand to keep it running. Briggs & Stratton 30592 comes with everything necessary to do its job:
1850 series OHV engine – It is a sturdy performer which won't give you any trouble provided that you add oil as required.
Low-oil shutoff function – A standard safety feature protecting the engine from damage.
7-gallon fuel tank – This capacity is sufficiently large to help you avoid frequent refueling.
11 hours of runtime at 1/2 load – This is pretty good for a portable generator of this size.
Stat Station display indicating the use of power and displaying the readings of the hour meter and maintenance reminders – An extremely useful advance control feature.
5 outlets including 4 120-volt AC ones for appliances – This is satisfactory, but the more outlets, the better.
25-foot storm cord – This accessory gives you even greater flexibility when using the Briggs & Stratton 30592 portable generator.
10-inch wheels, which can never go flat, and a T-handle – These features make the unit a lot easier to move around.
Pros
Large capacity
Reliable operation
Long runtime
Great mobility
Advanced display
Cons
It's quite heavy
Doesn't feature electric start
Could have more outlets
Buy from Amazon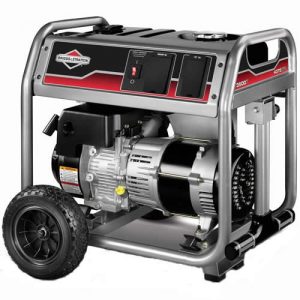 If you are looking for a portable generator which is powerful enough to help you cope with a long-lasting power outage yet not particularly big or heavy, this model could be just right for you. It is rated at 4375 surge watts and 3500 continuous watts so you will be able to use the lights and the most important appliances in your home simultaneously.
Since this one of the best Briggs & Stratton generators is portable, you can set it up anywhere you like and move it as often as you like. It has a sturdy metal frame and a mobility kit to make these tasks easy.
You can expect Briggs & Stratton 30466 to work smoothly at all times. It is built to last. You just have to give it proper maintenance and store fuel the right way. To make a final decision regarding this portable generator, learn about its features in detail:
1150 Series OHV 250cc engine – It pulls off great performance and has good fuel efficiency.
8 hours of runtime at 1/2 load thanks to the 4-gallon fuel tank – You won't have to refuel the generator often.
Power surge alternator – This feature helps the unit to produce 25% more surge watts and therefore allows you to power several large appliances at the same time.
Lo-Tone muffler – It helps to keep noise levels down.
Fuel gauge and hour meter – These features help you to control the operation of this one of the best Briggs & Stratton generators.
2 120-volt household outlets and 1 120/240-volt 20-amp locking outlet – More household outlets would give users greater flexibility.
10-inch never-go-flat wheels and an ergonomic T-handle – They make moving the Briggs & Stratton 30466 portable generator around easier and quicker.
Pros
Sufficient capacity for backup power
Smoothly working engine
Good runtime
Great portability
Sturdy construction
Cons
Recoil start only
A small number of individual outlets
Could be somewhat quieter