What is an Electrical Generator?
An electrical generator is a device that is used for electric generation which converts mechanical energy to an electrical energy and also forces electric current to flow or pass through an external circuit. They are enabled to supply electricity in case of power failures or in case of high power generation requirement in industries or other specific purposes.
Why buy a Generator?
Everyone has different needs and requirements. There are various reasons for businesses or at individual level to own standby or backup, prime and continuous power supply generation engine. Electric power generator provides added level of insurance to your business operations or daily routine ensuring uninterrupted power supply (UPS). Until you become the victim of an unfortunate disruption or power loss, the trouble of power outage is rarely noticed. So for these purposes power outage solutions are kept as standby or a backup solution.
It could be a backup power generator for an individual home to avoid inconvenience of power outages through buying a small backup generator according to your requirement. Requirements and the size of electrical generators are analyzed through knowing what you expect from them to power. Necessary and essential appliances and their power consumption is known and analyzed first before buying the one so that it would meet your requirements.
It could also be for an emergency/ standby power for businesses. As being an owner of the business, an emergency standby generators provides you an added level of insurance for keeping your operations running in a smoothly manner without any interruptions. For buying a simple electric generator for business purpose u must determine that how much money your business generates, how much revenue is there, that is strictly dependent on power supply and etc. In this way you analyses your business conditions and records before taking decision for buying a generator to decide whether you are capable to do so or not.
How to Choose the Best Generator?
To choose the right generator for yourself, you must consider whether you need it as a backup power solution for your home or business, recreation, camping or a jobsite. You may also visit any consultant or generator selector who will help you in finding one to match your requirements. How many and which type of appliances you want to power? How you want the starting mechanism of your generator? Do you want it to start automatically when an outage occurs or you want to start it manually each time when required? What is your price range? Is it a major factor of your consideration? Which items you need to power? Whether hardwired items like furnace, air conditioner, well pump, or only the appliances that can be directly plugged in an outlet? Would you be powering sensitive electronic items too, such as home electronics, computers or other sensitive equipment? How much wattage you need? What accessories of electric generators will help you to attain better performance? All these questions will helps you to choose the best electric generation engine.
What kind of Electric Power Generator you should consider?
There are actually just two main types of emergency generators that are portable generators and standby generators. Inverters and generators are used for the same purpose but inverters are not generators.
Standby generators are usually permanent fixtures that are wired directly into the property and fueled by propane or natural gas. Mostly standby generators need a permit as well as they require professional installation, you cannot buy and install it on your own, they are non-moveable and fixed at their particular place. Standby generator power is determined by the number of circuits that would be able to run off the unit.
Portable generators are the ones that are mostly used in case of emergencies in order to power home devices, vacation, camping, boats, and other remote areas. It is handy for this purpose that you can use power tools in remote areas. They usually use gasoline and include 120V power outlets along with some also providing an additional 240V outlet. They have different cost ranges and include the ones those are below $ 100 to $1000's of dollars.
Inverters are often mentioned in the same context. They actually turn (DC) Direct Current into (AC) Alternating Current. We use alternating current at our homes while direct current is used for an example in power supply outlet in your car. A typical example of the functionality would be described as to plug an inverter into the car cigarette port, this will permit enable you to plug an appliance in to the inverter which uses alternating current (AC).
Top Selling Portable Generators
Portable generators can be either used for emergency services, camping, picnics, or for outdoor working on projects, in all cases it's very useful. They are available in different sizes, watt outputs and starting mechanisms, but they are similar in purpose to generate power for various uses. The top ten selling portable generators in 2014, as per portable generator reviews, are as follows:
1. All Power America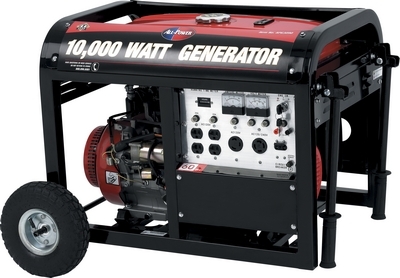 The portable generator, All Power America, has a four stroke gasoline engine. Its 120 volt AC generator is tremendous for use in home. The portable electric generators have a rated power of 1650 watts and an output of 2000 watts. It is quiet similar to lawn mower and has a simple recoil start and does not come up with pre start warm up. All Power America portable electric generators are slightly louder in compare to other similar units, but it is able to power some power equipment too with other basic home devices. Over all it is not as efficient as other portable electric generators, but cheaper.
2. Briggs and Stratton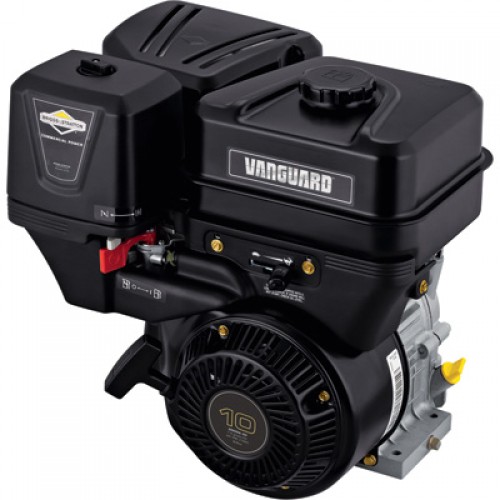 The Briggs and Stratton is 3500 watt portable power generator that is powerful unit and perfect for homes and also some commercial use. Briggs and Stratton portable generators are gas powered and can even run for approximately 8 hours at 50 per cent capacity. It consists of 4 gallon capacity of gas tank that helps the portable gas generator to power your vacations at the trips, camping, cabin, boating jaunts and also helps to provide the backup power outage solution necessary during an emergency. The Briggs and Stratton of 3500 watt is a powerful electric generator that will helps you with all your emergency and backup power needs. Verily it is larger than most other similar portable generators but missing extra features such as an automated engine warm up and electric start.
3. Champion Power 3500 Watt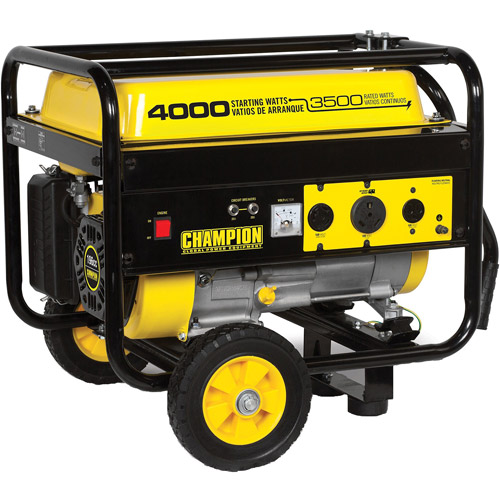 The Champion Power portable generator is powered by gasoline and produces 4000 starting watts and sometimes 3500 starting watts. This portable and standby generator can be run up to 12 hours with the 4 gallon fuel tank, at a 50% of load. It has a four stroke engine, single cylinder and also has other handy features for example low oil auto shut off sensor and it is designed in a way that it is easy to maintain. Portable generators have capacity of 120 volts that is perfect for powering most of the household appliances. The Champion Power portable generator includes solid rubber wheels that allow you to transport your generator with ease.
4. Generac GP Series 7500E Watt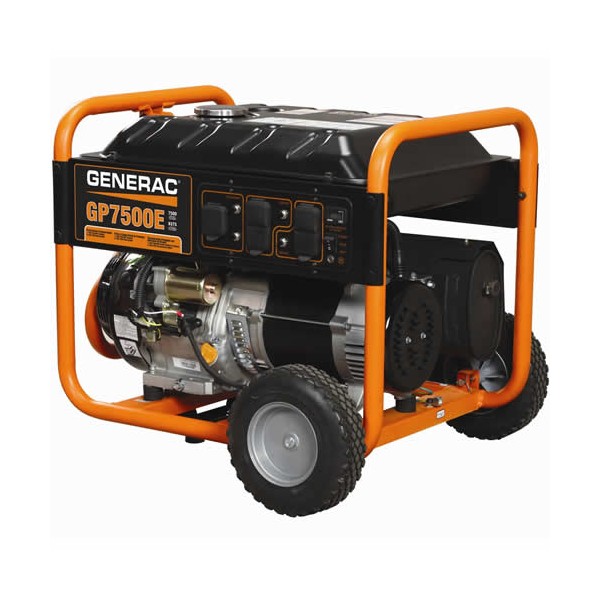 Generac GP Series 7500E Watt portable outage solution generator is one of the most powerful and durable portable generators. The gas generators have ability of generating an output up to 7500 watts. This is a perfect fit for homes or even for limited commercial use. For commercial use two year warranty is voided on portable generators and the unit can be replaced by a 90 day warranty. The Generac GP Series of portable power generators is ideal for various uses. That could be backup power, any outage solution, camping and much more. It gives 12 hours battery life while giving output of around 3700 watts. The unit is powerful enough to power large electrical equipment too. The only drawback of it is that it is without noise dampening feature, so it is louder than most of the other portable generators.
5. Honda EU1000i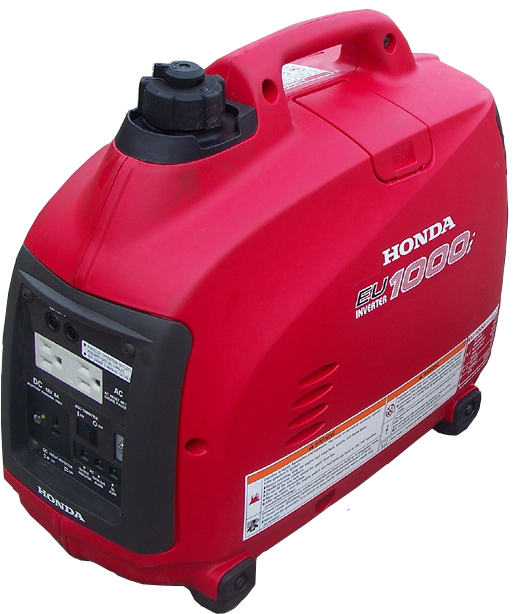 The Honda EU1000i, portable power generator of 1000 watts is perfect for using in home as a backup outage solution to power basic electronic equipment. The Honda EU1000i portable electrical generator is not much powerful as some of the best portable power generators. It is best for picnics, camping as it is the basic model with some basic requirements. It can easily power phones, fans, computers, and various other everyday electronic units. The generator has the noise dampener that you will surely love. The generator is light weighted, efficient engine and its quiet technology makes it attractive and useful among all to make it buy this one.it does not fit for commercial use as it has relatively small wattage, but it would work well for home use.
6. Honeywell 3250 Watt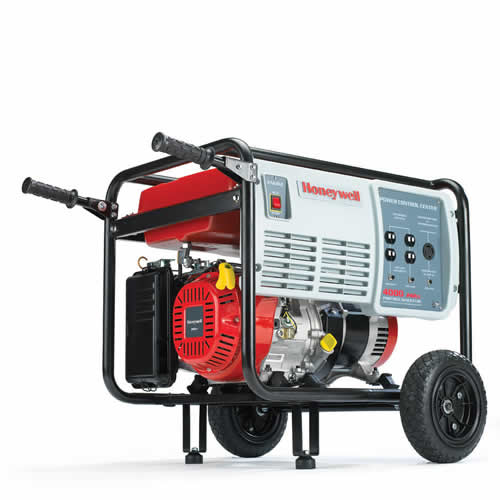 The Honeywell 3250 portable power generator is designed in a way to provide reliable power for various uses. Similarly like other best portable generators, Honeywell 3250 has a folding handle, wheel mechanism and simple to use control panel. The grips, tubing and a locking mechanism makes its transporting much simpler even it weighs about 115 pounds. High wattage is a useful option in generators that is only available in gas powered generators. The Honeywell 3250 is a powerful unit that is large enough to power commercial electronics too. It is faultless for appliances, tools and other household goods. It has an electric start that is very useful and helps you and save your time and energy. Its admirable 3250 watt output and its fuel life of seven hours are impressive. Only the thing to consider is its noise, that is probably louder than other similar portable generators.
7. Sportsman GEN2000LP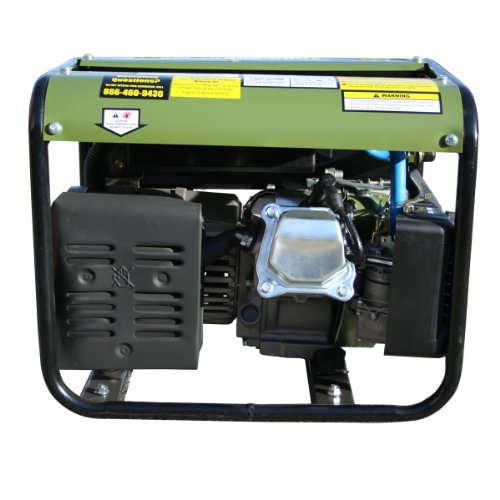 Sportsman GEN2000LP portable generator is cheaper among all comparative similar products. It is powered by propane and very robust. The propane portable generator has about 2000 watt surge power capacity and running power capacity of 1350. Unlike most of the portable generators, Sportsman GEN2000LP is powered by propane gas. This makes it attractive for several reasons. Whereas Propane is not much readily available as compare to gasoline, but it does have benefits. For instance, it is safer to store and many people keep propane tanks for barbeques in backyard. Propane is an efficient fuel that burns cleaner than gasoline. Similar to other best portable generators, this unit is approved by the Environmental Protection Agency for clean burning standards. Verily it means you have to transport propane gas tank along with generator where ever you need it. Sportsman GEN2000LP does not includes a wheel kit, so you may have to buy a wheelbarrow or wagon each time for transportation. The Sportsman GEN2000LP has short warranty than most other similar portable generators, but if you want an outage solution for home use than propane portable generator is a useful option.
8. WEN 3500 Watt Generator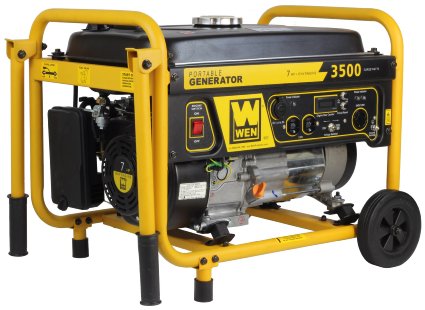 The WEN 3500 watt portable generator is designed in a way to bring power where ever you need it the most. WEN is equipped with a 7 horsepower engine and allows 3500 surge watts of power. The WEN portable generator is capable of running a refrigerator, lights and other electronic devices. For easy transportation it comes up with a wheel kit so that the home generator will come in handy, where ever there's a power outage and whenever you need it as a transportable power for outdoor activities or camping. It does not include an electric start option and a noise dampener. The WEN 3500 watt generator is impeccable for using in home it can easily power small electronics and large appliances. This is a good option for home and as outdoor outage solutions.
9. Westinghouse WH7500E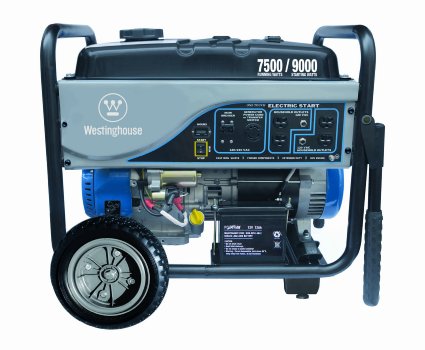 The Westinghouse WH7500E portable electric generation engine has an innovative starting of system, quiet operation and all the tools are available to start using the generator right away. The portable generator of 7500 watt, 6 gallon is one of the most robust, powerful and useful units among all available. The generator can run for 11 hours at 50 per cent load, which would be around 3000 watts for half of the day. This feature makes it strong enough to generate power for commercial equipment, along with daily use products. These portable power generators can be used for power tools, computers, television, cell phones and also other larger equipment. The wheel kit is also included that helps it to make it more convenient for users and also some extra features like the muffler which makes it an attractive purchase.
10. Yamaha Inverter EF1000iS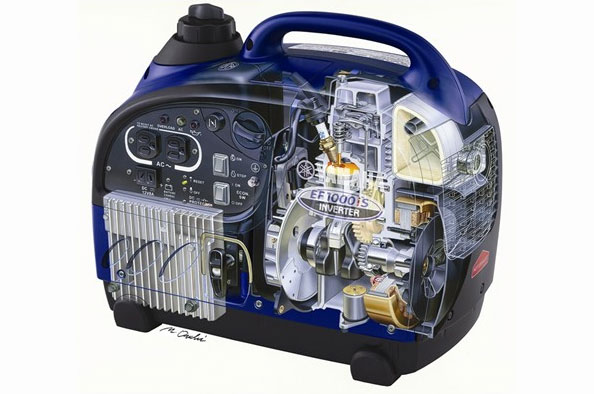 The Yamaha Inverter portable generator weighs about 30 pounds and also has an innovative noise dampener. It has the longest emission engine durability that is certified by the Environmental Protection Agency. Gas powered portable generators, with the quarter of the esteemed load; it can run up to 12 hours. The Yamaha Inverter portable generator has an output of 1000 watts that is enough to power most of the household requirements. This portable generator is lightest in its weight, quiet, compact and very useful among others, while others have more wattage. It is an impressive option among portable generators. The Yamaha Inverter portable generator is an outstanding option for portable power generator. it is perfect for hunting, camping, picnics, boating or for any backup power outage solution. From half gallon tank it can power efficiently for 12 hours.
Portable Generator Reviews
1. Yamaha EF2000iS Review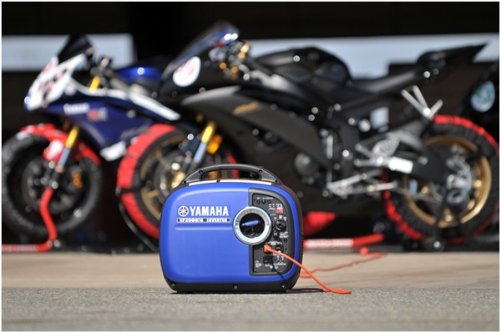 Yamaha EF2000iS is a CARB compliant portable generator with the rated AC power output of 1600 watt and 2000 watt maximum AC output with 13.3/16.7 amps @ 120V. It has super quiet muffler that is USFS approved spark arrestor. It only gives 51.5 dBA at quarter load. It has Inverter system with control of Pulse Width Modulation (PWM). It also has distinct feature of smart Throttle that help to vary engine speed based on load and also reduces noise and improves fuel economy. It is portable, powerful, and very efficient gas powered portable inverter power generator. it delivers maximum electrical power output that is not common among portable generators, and without losing its portability. Its innovative inverter system works awesomely and because of this generator is possible to generate up to 2000 watts of clean AC power. It is able to run for about 10.5 hours continuously without the need of refueling and uses its premium technologies for the purpose to maximize fuel efficiency. It is rated as 4.5 out of 5 stars as per portable generator reviews. Its dimensions are 19.3*11*17.9 inches and weighs 44.1 pounds.
2. Hyundai HY2000si Review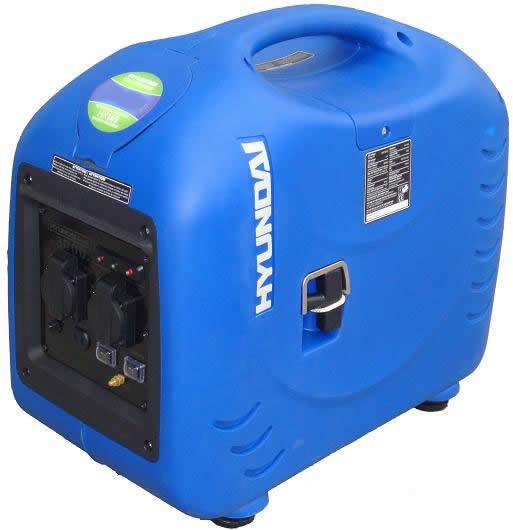 Hyundai HY2000si portable inverter generator having peak power of 2200 watt and running power of about 2000 watt is best for different purposes. It has manual recoil start and run time of 5.5 hours at 50% load. It is convenient for homes, sporting events, concerts, camping and trade shows. It has circuit breaker system with additional overload protection and detection by low oil indicator for further protection. It is a clean power source that is also suitable for sensitive electronic equipment and computers. It is non CARB compliant and not for sale in California. Its dimensions are 19.7 * 11.8 * 19.1 inches and weigh about 70.6 pounds. It is cheapest among all others of similar type hence having better configuration. The portable inverter generator works well and very efficient in its performance. Portable generator reviews by all customers after using the product were positive and they are satisfied by its performance.
3. DuroStar DS4000S Review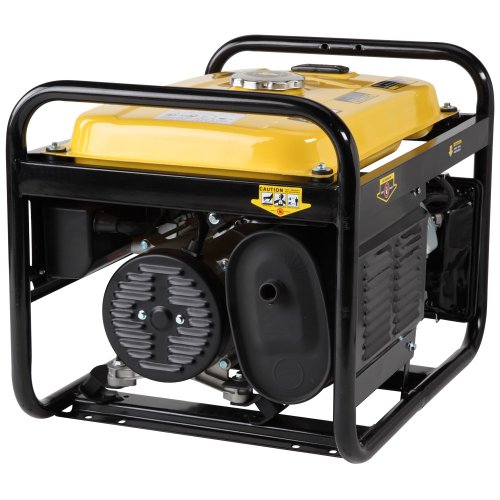 DuroStar DS4000S 7.0 HP OHV 4 cycle gas powered portable generator, generates power of 4000 watt surge and 3300 watt continuous. It has 4 gallon gas tank that could be run for hours. It has EZ pull recoil start and it is EPA Approved and has an added feature of automatic low oil shut off system. Dimensions of this portable generator are 23 * 18 * 17.5 inches and shipping weight is 93 pounds.
4. Westinghouse WH7500E Review
Westinghouse WH7500E portable generator is gas powered generator, 420 cc overhead value engine with 4 strokes, electric and manual start options.it generates 7500 running watts and 9000 starting watts. It is non CARB compliant and not for sale in California. The full enclosure of portable generator protects electrical connections from debris and weather. It has different outlets one for 120/240 volt and four 120 volt twist outlets. It has an added feature of quiet operation via Pulse Flo muffler. It has LCD hour meter and simplified control center. Its dimensions are 27.2 * 20.5 * 22 inches.
5. DuroMax XP4400E Review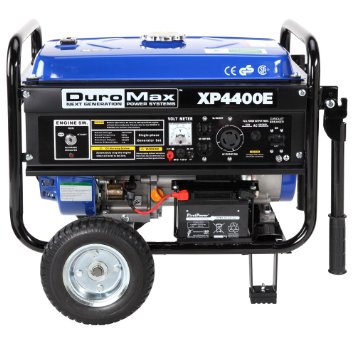 DuroMax XP4400E gives maximum power of 4400 watt and 7.0 HP OHV and 4 cycles. It is powered by gas and includes the wheel kit to make it portable and has electric start up mechanism. It has 4400 watt surge and 3500 watt continuous. It comprises of 4 gallon gas tank that would make the power generator engine run for about 8 hours. Its start-up is through electric key start and includes battery too. It is EPA approved and includes an added feature of automatic low oil shut off to prevent your DuroMax XP4400E portable power generator from any breakage or other problems. Its dimensions are 36 * 24 * 24 inches and shipping weight of 116 pounds.
Tips on keeping your generator in best condition
Here are some tips to observe and follow to keep your generator long lasting and in best condition. Look for the best portable generator as per your requirements. Most of the generators turn off by themselves through their automated system of low oil indicator, but it lets your engine dry by of inducing gas out of the fuel system and preventing it from fouling parts, if in case it degrades during storage. Powering too many appliances at the same time may trip the generator's circuit breaker that results in power loss. You must be aware that what you are powering, whether it is within the generators rated wattage. Nowadays most transfer switches makes this easier by showing wattage levels. Place and run generators in an open place otherwise it may endanger people inside house. Keep track of its maintenance and oiling routines and procedures. Secondly you must not leave gasoline in generator for a long period of time if it is not in use; if you leave gasoline it will leave a mess in carburetor. If this happens you must clean and service carburetor before use. Service must be done by any professional preferably. Neither propane nor diesels have this issue, whether you can leave them for months or years. Engine oil must be changed after preferable time stated by manufacturer for excellent performance. These tips would probably help you to keep your generator in best condition.