Over the years, DuroMax has built strong reputation as a manufacturer of portable generators, primarily for household use. They can be used to provide backup power and for powering the air conditioning system of RV.
The brand's model range isn't the widest out there, but this doesn't mean that you cannot find what you are looking for. Focus your attention on the best DuroMax generators presented below to pick the one which matches your needs and requirements precisely.
One of the things which makes the brand stand out is the superior design and make of the engines. Given this, you can have complete peace of mind that your unit will perform superbly in the short term and in the long term too. You just need to provide basic maintenance. When it comes to the other features of the best DuroMax generators, you will notice that there is considerable diversity.
Top DuroMax Models You Can Buy Today
Just keep in mind that the first factor which you should base your choice on is the unit's capacity. You should get enough power to meet all of your needs and maintain your preferred lifestyle in case of a power outage or when you go camping. Here are the best models of the brand that you should definitely check out.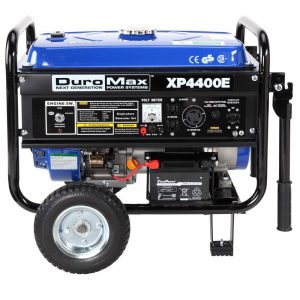 Buy from Amazon
This model of the brand produces 4400 watts of surge power and 3500 watts of running power. The numbers suggest that DuroMax XP4400E can work effectively as a backup power generator in the average home. With it, you can power the lights and several important appliances such as the microwave for preparing food and a radio to follow the news.
It is also possible to use this model for powering tools when you are nowhere near a standard electric outlet. It is suitable for RVs and for camping, especially given that it comes with a wheel kit for easier mobility.
Here you will find a list of the features and capabilities of the model. Evaluate them based on your individual needs to decide if it could be the best of the best DuroMax generators for you. The list includes:
7.0-horsepower OHV engine with air cooling – Thanks to the advanced engineering, this engine is bound to perform exceptionally well.
Electric start and recoil start – The former makes starting the engine easy, while the latter serves as backup in case of battery draining. Both work well.
8 hours of runtime at 1/2 load when the 4-gallon fuel tank is full – This is quite good.
2 120-volt, 20-amp outlets for connecting household appliances and 1 20/240-volt, 30-amp twist lock These should be sufficient, but you can always benefit from more outlets.
12-volt DC output for charging batteries – A highly useful feature when you are camping outdoors.
DuroMax RV Switch – This special feature makes it easy to use the generator for powering your RV.
Volt meter and battery charge indicator – Useful features for keeping track of the portable generator.
69 dB noise rating – This is quite good for a unit with this power capacity and size.
Quiet exhaust with spark arrestor – This feature makes it possible to use the DuroMax XP4400E generator safely in national parks.
Pros
Easy to start
Great capacity
Effective and dependable operation
Excellent mobility
Multiple uses
Cons
Adding oil is somewhat challenging
Could feature more receptacles
The manual has small pictures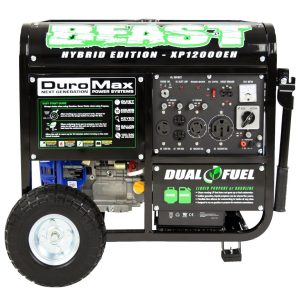 Buy from Amazon
With its 12000 watts of surge power and 9500 watts of running power, this model really deserves its nickname – the beast. DuroMax XP12000EH is one of the most powerful portable generators which you can find right now.
You can use it to power practically all of the lights and appliances which you need at home, including items known for their high power consumption such as refrigerators, furnaces, well pumps, microwave ovens and space heaters. If you have a big back yard, you can consider plugging your electric lawn mower and trimmer into the unit.
Undoubtedly, the most impressive thing about this one of the best DuroMax generators is the dual fuel technology. You can run the unit on either gas or propane and this gives you great flexibility and the ability to keep costs down. If you go for the first option, the runtime is 8 hours at 1/2 load when the tank is full. In case you choose propane, you will have 20 hours of runtime at 1/2 load with a standard BBQ tank size. As you can see, the difference is huge. Now that you know the most important thing about this model, check out its major features:
457cc DuroMax OHV engine – You can expect outstanding performance at all times.
Control panel featuring four outlets, alert lights, a volt meter and a circuit breaker – A smart solution which saves you a great deal of hassle.
Heavy-duty frame with isolated motor mounts – This is how DuroMax XP12000EH receives protection from damage and the noise levels are reduced.
Low-oil shutoff protection – Even though this is a standard feature, it is definitely worth mentioning as it works perfectly well.
Large wheels and a foldable handle – The mobility kit of this model is totally functional. It really makes your life easier.
Low-noise muffler with spark arrestor – This feature is commonly found in the best DuroMax generators and makes it possible to use them safely when camping in national parts.
Pros
Huge capacity
Superb performance
Excellently designed control panel
Multiple noise reducing features
Good mobility
Cons
Requires a considerable amount of space given its size
The initial setup could be somewhat challenging
The manual isn't very clear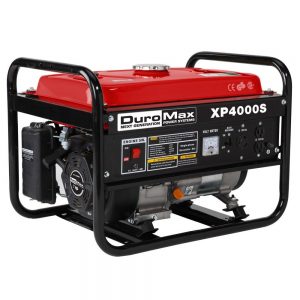 Buy from Amazon
This portable generator is quite versatile. It is suitable for powering RVs and for outdoor camping. Given that it produces 4000 watts of surge power and 3500 watts of continuous power, you can confidently use it as backup in case of an outage. You will be able to run the lights and a few appliances in your home with it.
DuroMax XP4000S is also helpful for powering equipment. This model is pretty versatile and this is a huge advantage. However, it doesn't come with a mobility kit which means that you have to carry it around. Given its weight of 94 pounds without gas and oil, you will surely need another person to help you with this.
When considering whether to purchase this one of the best DuroMax generators, you should assess its based on its main features and capabilities. Here they are:
0 horsepower air cooled OHV engine – It is an exceptionally reliable performer.
Manual start – It works pretty well. Usually, the engine starts with one or two pulls.
Sturdy steel frame and four isolated motor mounts – This is how the engine receives protection and the vibrations which is produces are reduced.
8 hours of run time at 1/2 load – This is good for the size of DuroMax XP4000S.
Single panel accommodating the 3 outlets, including 2 12-volt AC ones, the volt meter, the low-oil indicator light and the circuit breaker – Very functional and convenient.
Pros
Quite versatile
Smooth performance
All controls in one place
Sturdy and durable construction
Cons
Not particularly light
Comes without a wheel kit
Manual start only