When you are looking for high quality, it is natural to take a closer look at the best Generac generators. The company is among the industry leaders and is known for producing models which operate flawlessly while being strong and durable. They are also among the major innovators. They are constantly coming up with new technologies which they include in their portable generators.
Still, this doesn't mean that the entire range is made up of high-end models. There are also more basic ones to match practically any budget.
While you can have complete confidence that the best Generac generators will perform superbly, there are still various factors which you need to take into account before making a purchase decision. You can choose between standard and inverter generators, with the latter offering clean power which is safe even for the most sensitive electronic devices like tablets and computer monitors. Perhaps the most important thing to decide on in advance is how much power you will need.
This depends on whether you will use the generator as backup, for powering your RV's air conditioner, for camping or for other recreational activities like boating. You should have a clear idea of the optimal wattage for you before you go shopping.
Best of Generac Portable Generators
It's now time to consider the best models of this brand.
Generac 5791 Portable Inverter Generator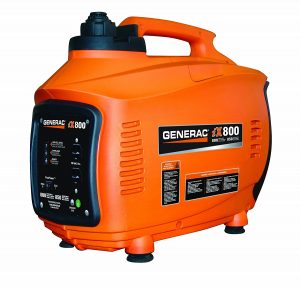 Buy from Amazon
This is one of the most compact generators which you will find, measuring 18 by 10 by 15 inches and weighing 29 pounds. It produces 850 watts of surge power and 800 watts of continuous power. These characteristics make it suitable for camping, boating and RV use.
In general, you can use Generac 5791 for all kinds of recreational activities where a small amount of power is required. It's also suitable for powering some basic tools.
The FlexPower inverter technology is undoubtedly the most notable feature of this one of the best Generac generators so it deserves more attention. It is based on a special type of alternator. A computer controlled inverter module converts DC power into AC power. It enables the engine to produce only as much power as needed.
The result is higher energy efficiency and quieter operation. More importantly, you will use clean power with total harmonic distortion lower than 3%. This will give you the opportunity to power any device using a microprocessor. Don't miss to check out the other features of the model too:
Low-oil shut down protection feature – It works to keep the engine safe from damage.
7 hours of runtime at 1/4 load – You may have to refuel the generator quite often.
Control panel with LED indicator lights for low oil and overload – It's great to have everything together and to get a timely alert when an issue occurs.
2 120 VAC/15 A outlets – These are typically sufficient given the small amount of power which the Generac 5791 inverter generator produces.
Electronic circuit breakers – These provide dependable protection against overloads.
Carrying handle – It is not slippery and is quite convenient to use.
Pros
Delivers clean energy for powering any device
Extremely compact and light
Convenient control panel
High level of safety
Cons
Unimpressive runtime
Has a manual start only
Not particularly quiet
Generac 6866 iQ2000 Portable Inverter Generator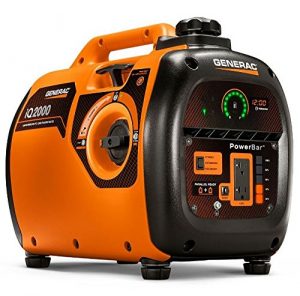 Buy from Amazon
This model of the brand is packed with unique advanced features which you'll read about in a few moments. The key thing to know about it is that it uses inverter technology to produce clean energy for powering even the most sensitive electronic devices possessing microprocessors like laptops, smartphones and video game consoles.
Generac 6866 iQ2000 produces 2000 watts of surge power and 1600 watts of continuous power. This is a lot more than the previous model presented here, but it's considered standard for inverter generators.
The compact size and the light weight are among the major advantage of this one of the best Generac generators. It measures only 20 by 12.6 by 16.9 inches and weighs 46.2 pounds. You should find it quite easy to carry this unit around. Let's focus on the model's features and capabilities now:
Patented OHV engine – You can expect it to deliver smooth and dependable performance for a long time to come given its sturdy construction.
7 hours of runtime at 1/4 load – This is quite good, but Generac 6866 iQ2000 is still behind the leaders in this category.
PowerDial – You can start, run and stop the generator with this single dial, which is extremely convenient to use.
Turbo, standard and economy modes – You can switch between them with the push of a button. Generally, this feature gives you huge flexibility.
LED dashboard – It enables you to keep track of the fuel level, the output produced and the remaining runtime and this makes it incredibly convenient.
Indicator lights – They'll alert you in case of generator overload or overheating or low fuel or oil levels.
PowerBar – This patented feature displays the current output produced by this one of the best Generac generators.
Ready for pairing with another unit – You will need a kit, which is sold separately, to connect the two, however.
Pros
Produces clean power
Smooth operation
Energy efficiency
Advanced monitoring and control features
Very quiet operation
Cons
Lacks electric start
Noise level increases with output
Could have better runtime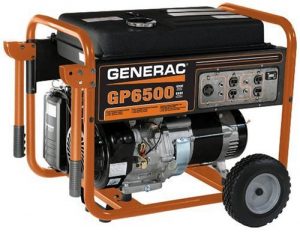 Buy from Amazon
This is a classic generator – the big engine sits inside a strong metal frame and there is a wheel kit which you can use to take it wherever it is needed. It boasts with 8125 starting watts and 6500 running watts. This makes Generac 5940 perfectly well suited for the role of a backup power generator in the home.
You can keep the lights on and run multiple appliances including the fridge, the microwave and a heater with it. It's great to be able to store food safely, to prepare meals and to feel cozy inside your house even when the main power supply is out. The model is suitable for camping outdoors and for powering tools as well. It is perfectly possible to run the air conditioning system of your RV with it, if you wish.
It is a fact that this one of the best Generac generator is versatile, but you should also look at its features and capabilities more closely to see if it could be right for you. Here they are:
389cc OHV engine with splash lubrication – This advanced engine has outstanding performance while the lubrication technology guarantees its long useful life.
10 hours of runtime at 1/2 load – This is what you should expect from a portable generator of this size.
Fuel tank capacity of 6.7 gallons – That's quite a lot so the weight of the unit will go up considerably when you fill the tank to the top.
5 outlets with circuit breaker protection – Their number certainly makes Generac 5940 stand out.
Low-oil level shutdown – This is a major safety feature and you can be certain that it works reliably.
Hour meter – This feature enables you to create an exact maintenance schedule.
Fuel gauge – It's easy to keep track of the fuel and to add more when needed.
Steel frame – It gives this one of the best Generac generators greater durability.
Never-flat wheel – They give the unit great mobility.
Pros
Highly versatile
Powerful and dependable
Smooth performance
Easy to move around
Simple to use
Cons
A bit noisy
Doesn't feature electric start
The wheels could be bigger