In the world of portable generators, Honda is among the most renowned brands. Customers have complete confidence in the quality offered by the Japanese brand. You should not be surprised to discover that the best Honda generators use inverter technology, which enables the production of clean power with total harmonic distortion lower than 3%.
This automatically makes the models safe for powering computers, flat-screen TV sets and all other electronic items with a microprocessor that you can think of. Not surprisingly, the brand is among the leading innovators in the industry. You will discover that its best models are packed with advanced features.
How do you choose among the best Honda generators? You should determine your power needs in the first place. They could be very different depending on whether you will use the device for boating or for getting backup power in case of an outage. When considering the features, you should focus on the actual benefit which they bring.
Top Honda Generators you Can Buy
A technology which helps to improve fuel efficiency is always a great addition, even if it adds to the price of the model a bit, because with it, you will be able to save money for a long time to come. It is now time to evaluate the best generators of the brand individually.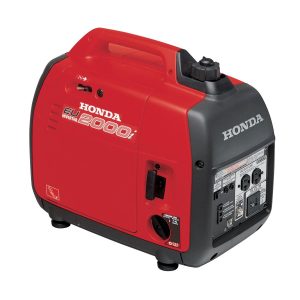 Buy from Amazon
This model is not only among the best, but also among the most popular models of the brand. Honda EU2000I makes 2000 watts of surge power and 1600 watts continuously. This makes it a good choice for recreational activities like camping, boating and tailgating. It could be used for powering tools too. Another reason why it is suitable for all these jobs is that it is very compact and lightweight.
It measures just 21 by 12 by 19 inches and weighs 46 pounds. You can easily fit it at the back of your car and carry it using the well-designed handle. If you want to get double the power which the device offers, you can easily pair it with another unit at the same model. This is an effective solution when you want to power the air conditioner of your RV, for instance.
Just like all of the best Honda generators, this one uses inverter technology to produce clean power. You can use it to power or charge the batteries of all sensitive electronic devices that you have. Let's consider the feature of this model now:
Honda GX100 engine – You can expect smooth and consistent performance from it. Rest assured that it's made to last.
Recoil starting system – You'll be able to start the engine with just one or two pulls.
1 hour of runtime at 1/4 load when the 0.95-gallon fuel tank is full – This runtime beats what many competitors of Honda EU2000I have to offer by far.
2 120V AC outlets and 1 12V/ 8A DC outlet – These correspond to the output produced by this model.
The noise rating is 59 dB, but at quarter load the inverter generator makes 53 dB of noise – Given the numbers, it's one of the quietest around.
Oil alert system – When the oil drops below the minimum level, the device shuts off automatically.
Circuit protection – This is a standard safety feature whose job is to prevent overloading.
Pros
Clean power
Superb performance
Great runtime
Easy to transport and carry around
Very quiet
Cons
Oil isn't included
Effort is required for pulling the cord
Without runtime meter, you can't time refueling.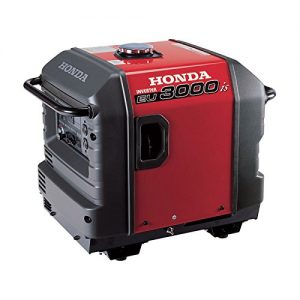 Buy from Amazon
When it comes to size, this Honda model falls between the small inverter generators with carrying case design and the big portable units. It measures 19.9 by 18.2 by 16.9 inches. The almost cubic shape doesn't make it seem particularly compact, but it will not take a lot of space for sure. With Honda EU3000iS, you get 3000 watts of surge power and 2800 watts of running power.
This gives you the opportunity to use the generator as backup for running some lights and a few appliances in your house in case of a blackout. It's also suitable for powering most RV air conditioners.
The inverter technology enables you to power all kinds of devices and appliances without worrying about damage due to surges. Let's take a closer look at the other technologies and features of this one of the best Honda generators:
196 cc single cylinder OHV engine with air cooling – It pulls off terrific performance and boasts with great durability.
Eco-Throttle mechanism – This technology makes Honda EU3000iS one of the best generators in terms of energy efficiency.
20 hours of runtime at 1/4 load when the 3.4-gallon tank is full – This is more than impressive for an inverter generator.
20A 125V duplex and 30A 125V locking plug receptacles – These are good, but having more would be better.
Full motor enclosure – This provides protection and brings noise levels down.
Noise level rating at 59 dB and at 48 dB at 1/4 load – This one of the best Honda generators is quieter than most of its counterparts with the same capacity.
Oil alert mechanism – It stops the engine when the oil is insufficient.
Pros
Brilliant performance
Surge-free power
High energy efficiency
Quiet operation
Great versatility
Cons
Comes without an hour meter
Doesn't have mobility kit
Could have featured more receptacles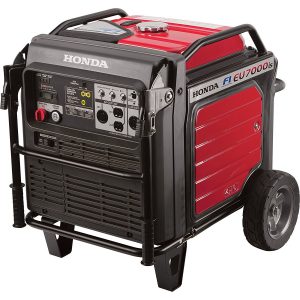 Buy from Amazon
This is one of the most powerful inverter generators you will find. It's rated at 7000 watts of surge power and 5500 watts of continuous running power. Because of this, Honda 7000W could be the ideal backup generator for the average home. You can power the lights and most appliances with it to get heating or cooling, to preserve food, to cook meals and even to make coffee.
It is suitable for powering the air conditioning system of RVs and for tailgating and other outdoor parties too. Thanks to its clean power delivered through the inverter technology, you can use the unit even for running computers, game consoles and stereo systems. The model is naturally big given its capacity, but it comes with a wheel kit which facilitates mobility.
This one of the best Honda generators is also among the most advanced. Check out its most impressive features in detail:
Honda GX390 engine with electronic fuel injection – You'll enjoy outstanding performance, high energy efficiency and minimal risk of engine choking and carburetor issues.
Electric start – You simply push a button and the engine starts working.
2 20A 125V duplex outlets and 2 different locking plugs – More receptacles would be handy given the capacity of the unit.
Eco Throttle system – It's designed to give you the highest level of fuel efficiency.
18 hours of runtime at 1/4 load when the 5.1-gallon tank is full – This is awesome for an inverter generator.
iMonitor system – It makes it easy to track the work hours, the wattage and battery volts. It helps with diagnostics too.
120/240V Selector switch – With it, you can make the entire output of Honda 7000W available via a single 120V switch to run a piece of high-power equipment.
Noise level rating at 60 dB and at 52 dB at 1/4 load – This one of the best Honda generators is much quieter than its rivals with the same capacity.
Pros
Delivering pure energy
High fuel efficiency
Exceptionally quiet
Advanced monitoring features and controls
Perfect mobility
Cons
Taking a considerable amount of space
Battery tender accessory needed for keeping the electric start running.
Remote control available separately, but there are availability issues.